CRAFTY PUNX
Aug 29
Four Limited Edition* Crafty Punx back-patches!
*Limited Edition may also mean shitty…
Only 5 exist! because the world couldn't stand to see another…
Free-handed Bad Brains
2 Silk Screened Specials
2 Silk Screened Alkaline Trio
3 Silk Screened Boris Badenov
6 Various Anti-Flag
2 Silk Screened Toy Dolls
2 Silk Screened Ghost Mice
1 Screened Reclaim the Streets Bike

I made all of these except for the Anti-Flag ones myself.

They are pretty much all for sale/for free. Hit me up.
All of these patches are up for grabs!
(Source: thelildepressedboy)
Aug 28
Specials patch? Sewn.

Next?
Got a few Specials patches just like this one left laying around. Hit us up if you want one for yo'self! We've also got some Anti-Flag, Toy Dolls, Alkaline Trio, Ghost Mice, a Dead Kennedy's back-patch and a few shitty CRAFTYPUNX back-patches laying around.
(Source: thelildepressedboy)
Aug 25
DIYSpotlight: Night of The Living Dead
my latest project.
D.I.Y. or die!✽
Free-hand lettering is always very daring… and for a back piece?
Bravo.
Aug 24
D.I.Y. Belt Pouch from an old pair of jeans.
Aug 15
DIYSpotlight: Sloth Painted Jacket.
Jahgee's painted leather jacket.
Aug 07
After a short delay we're back!
We're still looking for submissions so PLEASE: Send us your work!
We filmed a few TERRIBLE videos about common-sense level bleaching and a video about screen printing, if you want to see them let me know and I'll actually finish editing them…
DIYSpotlight: Black Flagged Pants
put a black flag patch on my pants, now i feel like ive accomplished something today
(Source: nutopiancitizen)
Aug 01
DIYSpotlight: Hardcore vest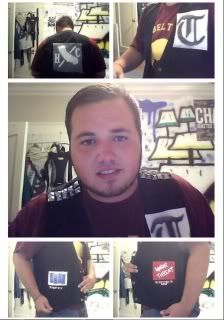 California Hardcore. Terror. Black Flag. Minor Threat.
(Source: thatbrockmallory)
Crafty Punx represent.
(Source: thelildepressedboy)